Orange Cupcakes
26.04.2012 14:04 | News
I found a Cupcake Magazine with over 101 Cupcake recipes! Over the weekend I made the first batch of cupcakes and I would love to share the recipe with you.
And this is how you can make them:
1. Pre-heat the oven at 180 degrees. Prepare the muffin tray with muffin forms (here you can have fun and be creative with the muffin form, especially if you have a theme).
2. Place the butter and brown sugar into a large mixing bowl and mix on medium until it forms a white color and foam texture. Mix in the eggs and sieve the baking powder and flour into the mixture until all ingredients are mixed through.
3. Mix in the orange peel and buttermilk.
4. Fill the cupcake forms to a little more than the half way mark. Bake for approximately 30 minutes and then let them completely cool.
5. For the topping mix the butter until it becomes a white foam texture. Sieve in the casting sugar and mix into the butter. Lastly mix in the orange peel and juice.
6. Using a knife cover the cupcakes with the topping mixture.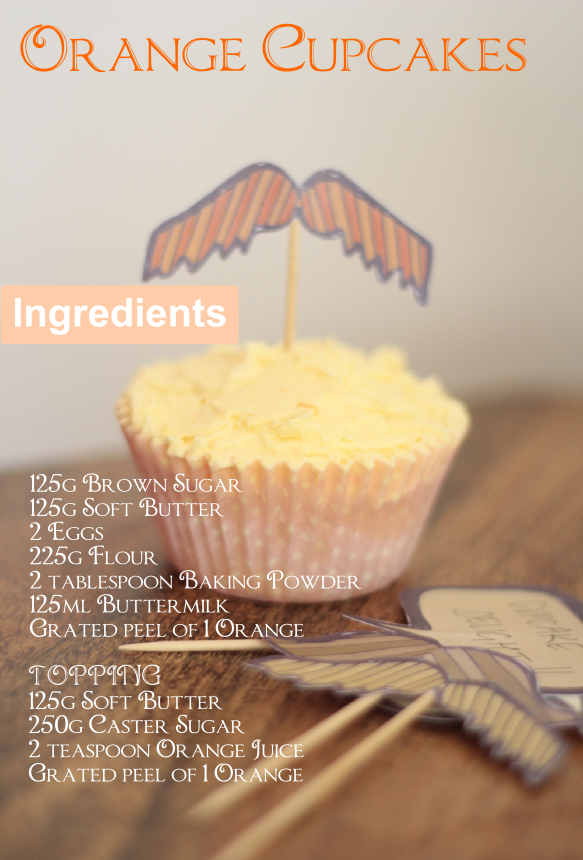 Enjoy backing and eating the cupcakes!